Something(s) Relative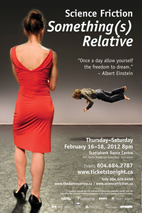 Something(s) Relative
July 31 2012, Vancouver, Canada.
Choreography: Shannon Moreno, Co-Artistic Director of Science Friction
Music: Roderik Vanderstraeten
Lighting Design: Rob Sondergaard
Dancers: Justine Chambers, Alison Denham, Farley Johansson and Billy Marchenski
DANCER BILLY MARCHENSKI is letting time weigh on his shoulders—and then it slips down and hangs languorously, head first, between his legs.
Time, in this rehearsal for Science Friction's dreamlike new Something(s) Relative, is actually embodied by performer Justine Chambers. And having a human being play such an abstract concept is just one of the surreal touches in choreographer Shannon Moreno's first full-length work. (Until now, she's always collaborated on pieces with her co–artistic director, Farley Johansson, who happens to be dancing in this piece.) Moreno is basing her work on Alan Lightman's 1992 novel Einstein's Dreams, a bestseller that imagines different dreams about the concept of time that a young Albert Einstein might have had while he worked on the theory of relativity. "I just knew it would translate really nicely for a dance-theatre piece. I really liked the way it flipped between the real and the dream," she says, on a break in the Scotiabank Dance Centre lounge. "When you go into that abstract, nonlinear kind of story—well, dance can do that."
In some ways, it's easy to see why the sense of time and space might be of special interest to Moreno. After several years far away from Vancouver, she and Johansson—partners in life and art who cofounded Science Friction in 2003—are finally based here again. What's transpired since they left in 2007 is too much to put into words. Suffice it to say that she and Johansson fell in love with Berlin, decided to move there, and worked as dancers and teachers around Europe. Along the way, she blew out her knee, had it repaired, and eventually, from 2008 to 2010, became ballet mistress at Osnabrück Stadttheater in Germany, which also hired Johansson as a dancer. "I got to work with many different kinds of choreographers," she says, adding that one highlight was when Johann Kresnik, a founding father of dance-theatre in Europe who predates even Pina Bausch, came to the company. "He's this robust, energetic, lovely old man.…So I really got to see the start of dance theatre, and that was a special moment for me." Moreno, who went to theatre school in Switzerland before pursuing classical dance at the Royal Winnipeg Ballet School and the Rudra Béjart School in Switzerland, focused on mixing a lot of spoken text with the dance in Something(s) Relative.
"I find it accessible, I find it interesting, and speaking is another avenue for us to relate to the public—not just movement," she tells the Straight of the dance-theatre form. "If you combine the two, you can reach a whole spectrum of people." Moreno and Johansson drew huge influences from their time in Europe, but they have always kept close ties with Vancouver, continuing to keep Science Friction afloat and coming home for sporadic appearances, such as their fun, playing-card-flicking Pocket full of questions at Dancing on the Edge in 2010.
When Moreno became pregnant last year, she was a little surprised at her yearning to return home, where her and Johansson's extended families still live. As it turns out, the transition back into the dance scene here could not have been smoother. Not only did Moreno nab the Iris Garland Emerging Choreographer Award, she became artist in residence at the Dance Centre. Dance Victoria has also stepped in as a copresenter, all of which has allowed her to throw herself into her first full-length work—along with a little help from her 10-and-a-half-month-old son's grandparents. She stresses Something(s) Relative will look a lot different to Vancouverites than the pieces she has previously created with Johansson. In fact, with its dream logic and mysterious partnering, the four-hander (also featuring Alison Denham) promises to look different from a lot of other works as well.
Like Marchenski's fictional Einstein, audiences might do best to let go of strict ideas of time and space and let themselves get carried away with the dream state. "They should come in completely open and let the elements of surprise take them away and allow the unexpected to happen," Moreno says. "They should also let themselves go into this fantasy, this dreamland—because dreams don't make sense."